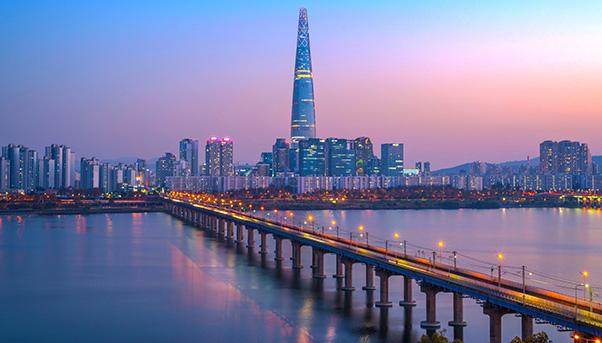 People living in Seoul express their love for it with a playful alliteration in English, saying that «Seoul is the soul of Asia».
The soul of this city of 10 million people – 25 million when including the metropolitan area – is instead manifested by the speed with which it forges ahead towards a future of advanced technology and avant-garde infrastructure. But it is ever mindful of its people, rising through the international rankings for the quality of life it offers.
Business, technology and transport infrastructure are the three pillars on which Seoul has based its success. Sustainability in Seoul has recently become another one, a method adopted by this growing city in response to some of the world's worst air pollution. And so a city that was a chaotic megalopolis 20 years ago has become a rich and powerful "smart" megacity.
Living in Seoul: a megacity with a high quality of life
As for quality of life, Seoul has reached seventh in the world, according to 2016 figures from the Sustainable Cities Index by Arcadis, a design and consultancy firm. With a gross domestic product (GDP) of $903 billion, according to 2015 figures from Oxford Economics, an advisory firm, the city's economy is equal to 67% of the national GDP. Among the world's cities, it ranks fourth, the Brookings Institution has found.
What is more, Seoul is the sixth most powerful city on the planet, beating the likes of Hong Kong, according to the Global Power City Index 2017, compiled by the Mori Memorial Foundation's Institute for Urban Strategies that examines six parametres including economy, research, culture, liveability and accessibility.
Global technology giants Samsung and LG have their headquarters in Seoul. Then there are initiatives that link urban development with business. One example is the Digital Media City, a complex of more than half a million square metres and dedicated to digital technology. Built in 2002, it has attracted avant-garde companies from the world of high-tech. In 2015, Google opened its first Asian campus for start-ups in the Gangnam district, confirming the city's vitality. So it should not come as a surprise that the city is one of the broadband capitals of the world, high up in the rankings of the ICT Development Index put together by the United Nations.
Sustainable mobility in Seoul
Seoul embracing technological innovation is thanks to its modern public transport system. The metro is its fulcrum, carrying seven million people a day. It has nine lines covering a combined 327 kilometres operated by four different operators, which together create an integrated system that includes light rail and suburban trains. It is a system that is connected to a fleet of buses (120,000 units) that by 2020 are to run exclusively on electricity.
Efficiency, reliability, accessibility and, to a certain degree, guaranteed entertainment, what with the big video screens affixed in the stations and along the escalators: these are major elements of Seoul mass transit. Technology has also inserted itself into the infrastructure: since 2010, mobile connection is ubiquitous on trains and metros.
In a 2012 report entitled "Seoul Metropolitan Rapid Transit to the World", the city says the «Seoul subway has led the incredible development of Seoul», making it «a driving force behind the remarkable development of Korea». Strong economic incentives are used to encourage the use of public transport and reduce the use of private vehicles. Free bus and metro rides are offered whenever air pollution levels are at their highest.
Seoul's strength in public transport is also manifested in its airport. In March, the futuristic Incheon, described by CNN as «the airport you'll never want to leave», was ranked as the best in the Asia Pacific among airports handling more than two million passengers a year by Airports Council International.
A lot of this can be attributed to South Korea's "ppalli-ppalli" culture of accomplishing things in a hurry. But this should not lead to think that residents do not enjoy their free time. Seoul has a vibrant cultural life and the city makes a point of making investments to improve the quality of life in general.
What Is Seoul doing to be sustainable?
South Korea is very sensitive to the topic and shows a high awareness about sustainabiilty and climate change.Seoul's vision is to become a sustainable city where "human, nature and future co-exist". Many projects focused on sustainability are oingoing in Seoul.
The restoration of the Cheonggyecheon Stream in the Jongno District
One of the most significant investments Sustainability in Seoul was the restoration of the Cheonggyecheon Stream in the Jongno District a decade ago that resulted in the removal of an elevated highway. Although it was criticised for its $900 million cost, it was lauded by the public at large after its inauguration. Running for more than 10 kilometres, it has become a much frequented and loved public park. What is more, it prompted other changes in the city like the construction of a rapid bus transit system covering 14.5 kilometres aimed at reducing the need to move about the city centre by car.
Seoullo 7017
This same idea led to the construction of Seoullo 7017, an elevated garden nearly a kilometre long. Recently opened, it was designed by Dutch architect Winy Mass of MVRDV. The "skygarden", as the architect's firm describes it, came into being by reusing an elevated street in the middle of the city at a cost of $50 million.
The Sharing City Seoul
It is a feature of the city that is inspiring the creation of new dynamics like a sharing economy. The "Sharing City Seoul" initiative, for example, promotes the shared use of public and private resources. Launched by the city in 2012, it is aimed at reducing waste while at the same time creating new economic opportunities. It has led to job training, the recovery of abandoned buildings, renting suits to people ahead of job interviews and donating clothes to school children.
Seoul's experience in urban planning shows that sustainable and economic development projects do not exclude one another - not even in an Asian metropolis. And it confirms how sustainable development can produce benefits not only in the long term but also in short term.