Water resources are becoming a priority for the United States. And not just the water that disappears during a drought, but the water lost to leakages in the nation's water management systems.
As U.S. President Joe Biden's administration works toward getting its final mega-infrastructure plan greenlighted, Congress has approved an initial package of initiatives focused exclusively on water infrastructure.
Recently, the House Transportation and Infrastructure Committee authorized a $50 billion (€42 billion) investment to be allocated over the next five years for wastewater management, flood control and other water-related infrastructure.
The plan was approved not only via the votes of the Democratic majority but with some Republican support, showing a bipartisan conviction of the immediate need for action in the sector.
"The agreement confirms federal commitment to invest in our water infrastructures and to deal with the challenges we face around water quality, particularly at the local level," said the Committee Chair, Peter DeFazio. From major cities like Washington DC to small towns, and from rural regions to industrial areas, water management is now a central topic in public discussions on economic revival post-Covid-19.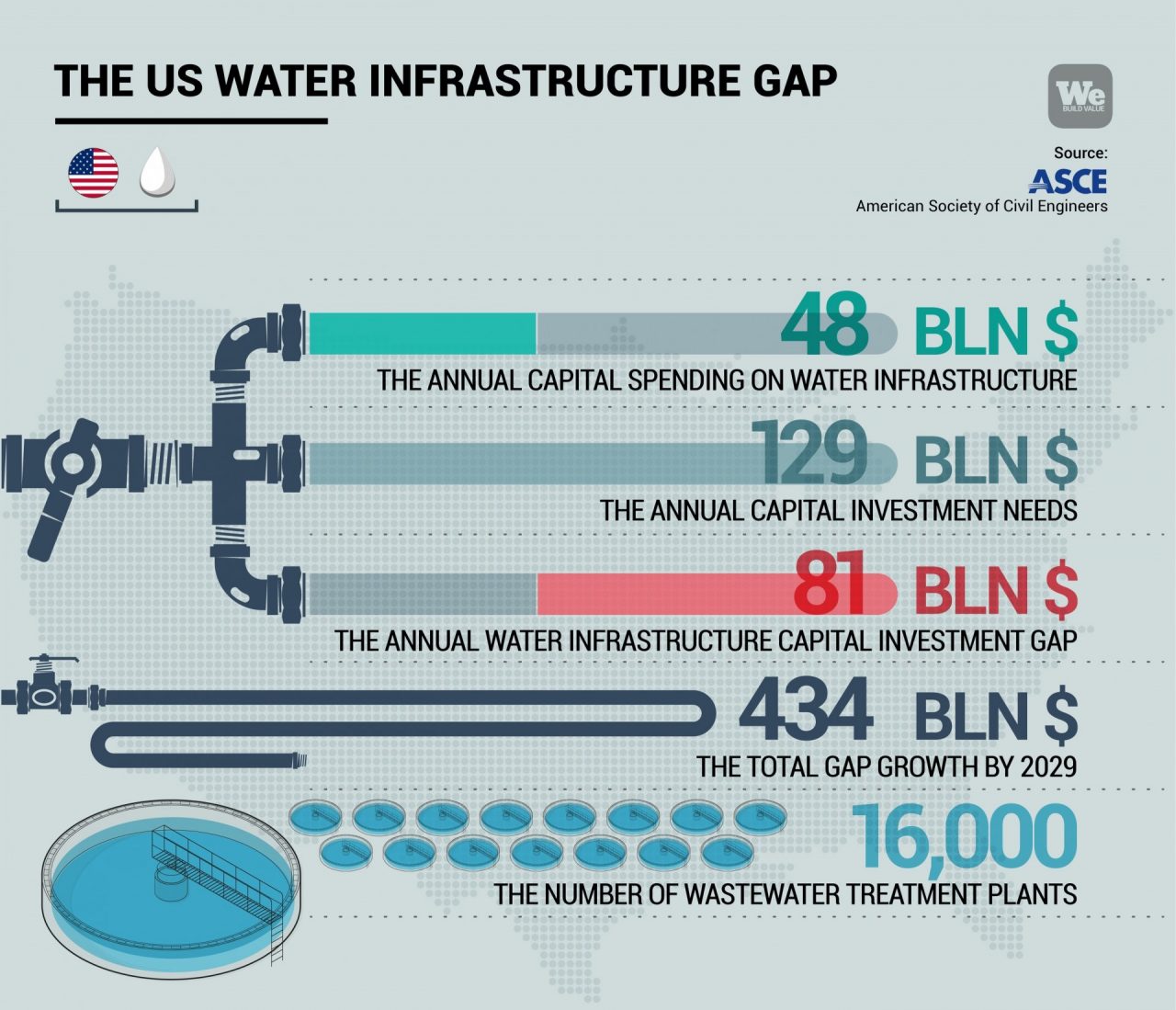 Infrastructural patrimony to protect
Congress' move stems from two key warning signs. First, the current news cycle, which indicates just how much the climate is changing, creating phenomena from droughts to flooding, and impacting people's economic and physical safety.
Second, the current state of infrastructure, which requires the authorities to invest in major works that have bolstered the growth of the American economy over the years.
Today, the U.S. has a 2.2 million mile long (3.5 million km) water distribution system which can transport millions of tons of water per day. The system, though far-reaching, is outdated and flawed. According to the ASCE (American Society of Civil Engineers)' latest report, every two minutes in the U.S., there is a water system failure, amounting to a daily loss of 6 billion gallons (22 billion liters). That's the equivalent of 9,000 swimming pools.
It's no wonder, then, that the subject is so topical. For a few years now, public administrations and private utility companies overseeing water networks have been carrying out in-depth maintenance work. The ASCE calculated that in 2020 alone, 12,000 miles (19,000 km) of water pipes were planned to be replaced by drinking water utilities.
Succeeding in the mission to modernise such an extensive water supply network will depend, of course, on the financial backing that federal, state and local governments are willing to sustain. To that end, the $50 billion (€42 billion) plan approved by the House Transportation and Infrastructure Committee is an important step forward. However, on its own, it is insufficient to meet the Us water infrastructure needs.
This is made clear in another ASCE finding: by 2029, the annual infrastructure gap both in drinking water networks and in wastewater management plants could reach $434 billion (€365 billion).
Intervening is essential. As numerous best practices and worksites-in-progress show, intervening offers the chance to transform the water management sector into a flywheel for the sustainable development of regions and communities.
Large-scale projects to protect water resources
From Washington D.C. to New York City and Los Angeles to the Colorado River, policy directions that look to a future built around water and its infrastructure are already common practice in many projects.
In New York, an $800 million (€673 million) plan was approved in 2020 to build new water mains and related infrastructure over the following two years. The city's Department of Environmental Protection is also working to develop a predictive model that can anticipate system failures and then design and plan ways of circumventing them, thereby creating a list of high-priority operations.
In 2020, San Diego launched a $300 million (€252 million) plan – primarily financed with federal funds – to modernise South Bay International Wastewater Treatment Plant, one of the region's most important wastewater treatment plants. Near the Colorado River, the Colorado Water Conservation Board approved the Arkansas Valley Conduit, a project that will build 130 miles (209 km) of new pipelines over the next few years. The in-progress infrastructure, which broke ground in October 2020, will be used to bring drinking water to 40 communities and 50,000 people.
Washington D.C. has for years been involved in the Clean River Project, a large-scale plan aiming to create a new infrastructure network for wastewater management to prevent pollution of the city's major rivers, beginning with the Anacostia. Webuild Group is working on the Anacostia as part of an initiative that by 2025 should reduce the volume of wastewater in the rivers by 96%.
This is a great opportunity for the nation's capital to become more sustainable, as well as for all other cities now looking toward a new season for American water infrastructure.